HFS Research Symposium – POWER OF ONE
Amplo Global Inc. which was previously awarded the title of 'Hot Vendor' by HFS Research, is now , is gearing up to brave rough waters in HFS's very own Shark Tank-style competition at the 2021 HFS Symposium, to win the title of the 'Hottest of Hot Vendors'.
This exciting session is part of the 2021 HFS Symposium, focused on OneOffice – the approach to create a collaborative, cross-functional, enterprise operation that uses automation to optimize people, processes, and eliminate silos to unify the business.
In this session, Anirban Bhattacharyya, our Founder Member and Chairman of the boared along with other Hot Vendors, will be showcasing how Amplo Global Inc has been an Industry 4.0 disruptor in a pitch, followed by a rigorous Q/A session with HFS thought leaders. The best part is that despite formidable sharks, the audience will decide who sinks and who swims.
Catch us at 3:45 pm – 4:25 pm EDT by registering here. Despite the formidable sharks, ultimately, the audience will decide who sinks and who swims. We're counting on your support! Click to learn more.
About our Anirban, our Founder Member and Chairman of the Board
Anirban has over 18 years of strategy, research and development, and implementation experience in physical and digital operations manufacturing, supply chain process improvement, and process automation services. He is the founding member of Amplo Global Inc., an AI-led Industry 4.0 risk management product company that powers AmploFly4.0, a platform that enables organizations to measure, assess and define 3 to 5 years of Industry 4.0 execution readiness. He earned his engineering degree from the Birla Institute of Technology and Science, India, in Electrical and Electronics, and an MBA from the Fuqua School of Business at Duke University, where he specialized in strategy and marketing.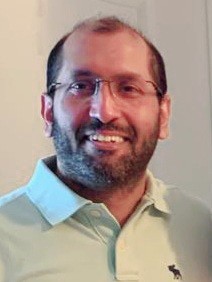 "Join us for HFS' very own Shark Tank – the OneOffice version. This exciting session will spotlight a cross-section of HFS Hot Vendors, up and coming disruptors that are enabling the OneOffice. They'll each get a chance to pitch their company highlighting its business value, then will endure rigorous Q&A from HFS thought leaders. The best part is that you, the audience get to decide who is the Hottest of the Hot."
– HFS Symposium Website
The Panel: David Cushman, Research Director, Emerging Tech OneOffice Platform, HFS (Moderator)
The Sharks: 
Elena Christopher, Senior VP, Research, HFS
Phil Fersht, Founder, CEO, and Chief Analyst, HFS
Melissa O'Brien, Research Vice President, HFS