How Artificial Intelligence is Fueling Industry 4.0
Industry 4.0 now empowers innovative businesses, particularly those in the industrial sector, to successfully operate and flourish in our increasingly digital world. That is evidenced by the success of those companies that have already embraced its principles. In its simplest form, Industry 4.0 describes the conscious implementation of complementary advanced technology that better connects people, processes, machines and data.
Those organizations embracing 4.0 principles, methodology and technology are proving to be more agile, more efficient, more collaborative and more profitable than ever before possible. In virtually every instance, those efficiencies evident in companies successfully engaging in their digital transformation result, in great part, from the impact of Artificial Intelligence. Why? For many reasons, including these:
AI automates repetitive learning and discovery through data and in particular, real time data. That data, and the insight that results, can impact every aspect of the manufacturing process.
Through progressive learning algorithms, AI can even enable the data to do the programming.
AI can also generate and analyze more data, more deeply. In almost every case, the more data, the greater the insights.
Key takeaways will include:
How AI is helping companies increase the delta between operating costs and revenue
A focus on the synergy between AI, data collection and analytics
Understanding the relationships AI and "smart machines"
How AI is helping to innovate part design and construction
A look at the impact of AI on CAD modeling
Understanding the role of AI-powered software and sensors
Reimagining an end-to-end AI-fueled supply chain
Missed our Webinar? Watch now!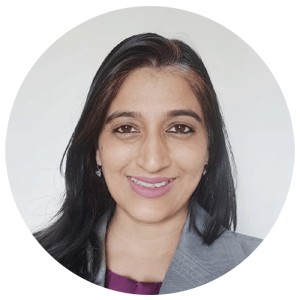 Pooja Soni
Pooja Soni is the Solutions Leader at Amplo Global Inc. She has two decades of hands-on experience developing solutions in a broad range of business areas, executing complex projects and delivering engagements that impact the bottom-line. She is passionate about increasing value by driving change, improving operational efficiency, and delivering 4.0 solutions. Focused on the impact of predictive analytics, cognitive automation, and AI-fueled digital transformation, Pooja is an influential thought leader.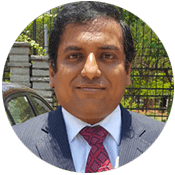 Navaneeth Seshadri
The Chief Technology Officer for Amplo Global Inc, Nava is a recognized visionary, committed to inspiring insights, forging innovative solutions and encouraging the implementation of new business strategies. He is a respected supply chain, manufacturing and integrated business planning (IBP) process leader with extensive experience in the automotive, hi-tech semiconductor, industrial manufacturing and retail industries across North America as well as the EMEA and APAC regions. A focused designer and an astute technology architect, he has been instrumental in the development of AmploFly4.0, his company's AI-based cloud product that is quickly revolutionizing the digital strategy initiation and tracking space. His 18 years of cross-cultural, cross industry expertise have honed his focus on achieving innovation through digitalization, using AI as the powering agent.