Drive various sustainability initiatives and corresponding modeling on AmploFly4.0™
Introducing Industry 4.0 principles to drive sustainability is no longer a new topic in the digital era. Taking a leap forward towards sustainable business practices is becoming critical.
Creating awareness to drive improved energy usage, reduce water consumption, manage landfill better, be compliant with industry regulations, and reduce the cost of non-compliance, are key principles of environmentally conscious operations. It fosters an ecosystem of connected products, operations, data, and an experience focused on artificial intelligence, enabling a cognitive value chain.
Understanding the inhibitors and driving organization-wide capability to push forward new business models has become a necessity. All of this is driving organizations to execute new business models by creating a closed-loop performance management system that operates on the principles of a circular economy by eliminating waste and continually reusing resources.
Our flagship product – AmploFly4.0TM offers a single platform that accepts outside-in data as well as Systems data from all participating collaborators in the ecosystem. outperforms human comprehension.
It comprises 5 modules and offers data-enabled visibility, competitive awareness, and measurable control. AI/ML algorithms are invoked for industry benchmarking, causal studies, pain point recommendations, and mockups for digital twinning. We offer an AI platform that augments human comprehension to increase business efficiency.
Amplo Global offers 100+ sustainability modeling frameworks to enable a desirable, feasible, and viable sustainability program in your organization
Here are some ways in which AmploFly4.0 supports sustainability:
Our SaaS based AI driven product is best positioned as a unifying platform wherein all participating stakeholder entities may
– Assess, refine and benchmark themselves in relation to their business strategies, operational maturity and business outcomes
– Evolve and improve their performance using in-built AI capabilities of our SaaS based cloud Platform (AmploFly4.0)
– Foster partnerships amongst various clusters to exploit data driven synergies.
– Create new sources of revenue and build new engagement models as a part of an evolving e-Marketplace.
Distinctly define and set various operational, strategic, and growth KPIs by focusing on low scoring areas from the first two modules
Track all guiding metrics in one place to enable an outcome-based approach through custom client dashboards
Tag desired business outcomes with necessary capabilities and potential risks to project the probability of success regarding a particular problem or initiative.
AmploFly4.0™ for SustainabilityOur product presents an unprecedented opportunity for all participating collaborators and ecosystem players to create new sources of revenue through creating New Business Models, monetizing Data, setting up e-Marketplace, and shifting Cost centers to Profit centers.Industry success depends on achieving a balance between supply generation, efficiency, and sustainability of energy. Through processes like Deep Learning, AI can recreate human learning to develop a comprehensive understanding of climate data and the ability to model and predict energy needs and shortages.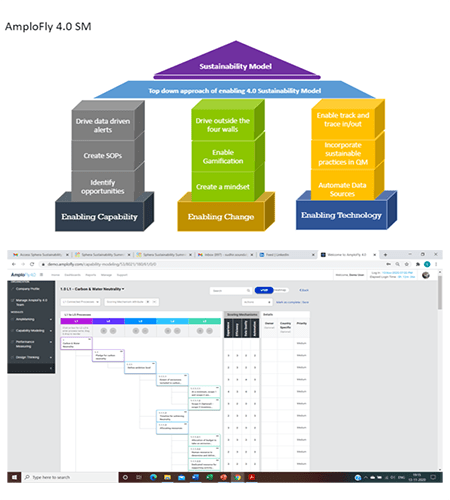 Sustainability Use Case I
A power sector company wanted to create an integrated platform for their businesses for ESG & Sustainability data
Situation
A power sector company wanted to create an integrated platform for their 3 businesses for various data pertaining to ESG and sustainability from various locations pan India having 7 power plants & 36 operating sites & 11,000 km of transmission lines.
Contributing Factors
The company needed to have this platform available for 100 users & 3 stages of data entry, data validation & data verification customizable at each KPI level with an option in-case if any auditor would like to review, they can get access to review all data.
Challenges
This platform was required to be integrated with SAP (EPR system) and Gensuite (Safety incident management as well as other platform used employee travel etc.) for data collection and proper alignment.
Modularized Solution from Amplo Global Inc.
With AmploFly4.0 Sustainability module we were able to display the end-to-end process for design & support by standard compliant reporting norms from multiple data source through data strategy, integrated inflow, and meaningful outflow dashboard. During that process we could produce AmploFly4.0 capability solutions for the situation and challenges through detailed FPM stages of Strategic Sustenance Assessment for optimal KPIs, reporting, data life cycle having core components, key metrics and outcomes.
Additional Benefits
The framework that AmploFly4.0 provided had AI-led KPI setting and measurement combining compliant KPIs and additional KPIs congruent to company's corporate vision & global operations.
Sustainability Use Case II
A fashion retailer wanted to create sustainable store which will reduce GHG emissions during construction & daily operations
Situation
A fashion retailer company wanted to launch 45 stores in a year but were concerned about the GHG emissions which traditionally gets produced during construction stage due to materials which are not eco friendly in nature.
Contributing Factors
As the stores were required to be launched in various locations hence locally available materials were required to be sourced to avoid GHG emissions & also people skills were required to be identified to have same look & feel for all 45 stores.
Challenges
All 45 stores required to have a modularity in construction to have TAT of 4 weeks at site post agreement sign off irrespective of any location, any size and any profile. Additionally, predictions were to launch 500 stores in 3 years and were needed to be digitally connected to enable daily updates of progress.
Modularized Solution from Amplo Global Inc.
With AmploFly4.0 Sustainability solution & Design Thinking module we were able to calculate materials cost (natural dyes prints, low VOC paints, FSC certified wood, cardboard, hardware, adhesives, etc.) with their GHG emissions from procurement till arrival at site, optimal speed of construction to work out CO2 & water consumption and availability of local labour to calculate travel distance. They were empowered with a strategic roadmap with scenario analysis for opening 500 stores in the next 3 years.
Additional Benefits
The store turned out to be 85% Green store as planned however due to AmpoFly4.0 module we could achieve fastest TAT of 2 weeks against 4 weeks hence saving of more power, water & a zero waste with additional benefit of 2 weeks of sales to business. Due to smart MEP works all the initial 45 stores are aligned digitally for energy consumption tracking resulting in less Opex apart form no additional Capex; hence resulted in 100% customer satisfaction.