Any company which has a stated Sustainability agenda and follows it up with action and reporting is good for the planet, period! 
But good companies often view ESG as a singular lens, with action areas defined under Decarbonization, Waste Management, Energy Conservation, Plastic Reduction, etc for a better planet. The best companies however delve deep and actualize each of the E, S & G as separate levers for an all-round coordinated action towards a sustainable and better planet. 
Giving S a Shape
In 2015, the United Nations set out to create a bold agenda for sustainable action by 2030, through its 17 Sustainable Development Goals. This led to a common language of universal action to end poverty, protect the planet and improve the lives and prospects of everyone, everywhere. Everyone, everywhere lies at the heart of creating a better planet and that is where the SOCIAL lever comes in ESG, especially with a focus on especially these 8 SDGs: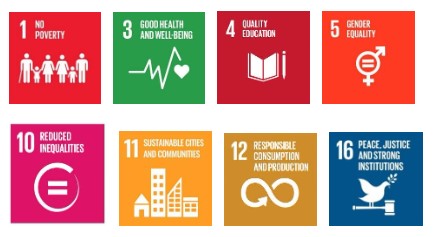 2 areas that have seen massive large scale intent and action in organizations worldwide are SDG#5 Gender Equality through DEI efforts and SDG#4 Good Health & Wellbeing through EHS & Wellbeing efforts. Labour Rights, Ethical Supply Chains and other more contentious political areas such as Human Rights, Responsible Consumption, Local Production are areas that see sporadic action and are yet to become coordinated action by corporations at a global level. 
As the world moves towards greater consciousness to protect the people and the planet, Social assumes increasing attention of investors, government, stakeholders and therefore the need to measure and track them becomes as imperative as measuring the Environmental levers of Decarbonization, Circularity, etc. 
Available Accountability Frameworks with an S focus: 
The SDGs were an invaluable Intent Statement to lead effort into organised action by Governments, Corporations and all major stakeholders.
Since then, different reporting frameworks have emerged to help Corporations set a comprehensive Sustainability Agenda and measure progress towards the 17 UN SDGs by 2030. We highlight 3 important frameworks below – The UN Global Compact, the GRI, ISO 26000.
1.  The UN Global Compact
This is a voluntary initiative, based on CEO commitments to implement universal sustainability principles and measure progress towards UN SDGs. They are recognised by the UN and have articulated 10 principles of doing business for Corporate Sustainability that meets fundamental responsibilities in the areas of Human Rights, Labour, Environment and Anti-Corruption. 
The 10 Principles of UN Global Compact for Corporate Sustainability are as follows:
Human Rights

Pr1: Businesses should support and respect the protection of internationally proclaimed human rights; 

Pr2: Make sure that they are not complicit in human rights abuses. 

Labour

Pr3: Businesses should uphold the freedom of association and the effective recognition of the right to collective bargaining; 

Pr4: The elimination of all forms of forced and compulsory labour; 

Pr5: The effective abolition of child labour; and 

Pr6: The elimination of discrimination in respect of employment and occupation. 

Environment

Pr7: Businesses should support a precautionary approach to environmental challenges; 

Pr8: Undertake initiatives to promote greater environmental responsibility; and 

Pr9: Encourage the development and diffusion of environmentally friendly technologies. 

Anti Corruption

Pr10: Businesses should work against corruption in all its forms, including extortion and bribery.
Under the UN Global Compact. Social is enshrined in Principles 1 – 6 & 10, addressing key issues under Human Rights, Labour & Anti – Corruption. Following these 10 Principles, is a 70-point checklist under each of those levers, to aid materiality assessment and progress measurement by companies in their corporate sustainability journey. 
2.  The Global Reporting Initiative
This is an independent, international organization, headquartered in Amsterdam that helps organizations take responsibility for their non-financial impacts, by providing them with a global common language to communicate those impacts. The GRI Standards is currently the world's most widely used standards for ESG reporting by businesses, investors, policymakers, civil society, labour organizations and other experts. GRI has worldwide presence to also cater to local requirements and contexts.
The GRI Standards are a modular system comprised of three series of Standards to be used together: Universal Standards, Sector Standards, and Topic Standards.
 

GRI Components

GRI Descriptors

GRI Universal Standards

GRI 1: Foundation 2021 (GRI 1)

is like a Guidebook that lays down the purpose, principles and principles of good quality reporting such as accuracy, balance, and verifiability.

• GRI 2: General Disclosures 2021 (GRI 2)

contains disclosures pertaining to an organization's structure and reporting practices; activities and workers; governance; strategy; policies; practices; and stakeholder engagement. These help contextualise each organization's unique journey and impact.

• GRI 3: Material Topics 2021 (GRI 3

) help organizations conduct their Materiality Assessment by guiding them to determine the topics most relevant to its impacts. 

GRI 

Sector 

Standards

These are available for about 40 sectors to increase the quality, completeness, and consistency of reporting by organizations. 

Each Sector Standard consists of 

an initial section that gives an overview of the sector's characteristics, activities and business relationships that are most causal to its impact.

a main section which lists the likely material topics for the sector. 

GRI Topic

Standards

There are Standards defined for waste, occupational health and safety, tax, etc. An organization selects those Topic Standards that correspond to the material topics it has determined during their Materiality Assessment and uses them for reporting.
3.  The ISO 26000
These are a set of international guidelines that companies globally could follow to manage their social responsibility and sustainability issues in an integrated manner, across economic, environmental, ethical and societal dimensions.
The ISO 26000 lays down the following 7 principles and associated assessment frameworks: 
Accountability

Transparency

Ethical Behaviour

Respect for Stakeholder Interests

Respect for the Rule of Law

Respect for International Norms of Behaviour

Respect for Human Rights
How AmploGlobal can partner in Materiality, Risk & Impact Assessment
The space of Materiality Assessment & Impact Measurement in ESG has seen heightened awareness and action in recent times. Need of the hour is to integrate every lever of sustainability deeply into operational practices to profitably reduce risk, creating business perpetuity, using smart sustainability services. 
Prior to ESG reporting, Organizations need to do the key step of Sustainability Risk assessment in Business transformation. And this is where Amplo Global  with its AmploFly4.0™ platform is geared to help organizations serious about the ESG commitment ensure the key step of Materiality Assessment and then reporting as per the framework that suits their context best.
Contact Amplo Global today and let AmploFly4_Social help you articulate a BOLD and MEASURABLE Social Action Plan !
Blog by Indrani Chakraborty
Global DEI & Transformation Leader, AmploGlobal